◼︎
Transforming Tradition

 
 


May 6th - June 1st, 2022
Canyon Country Community Center
All of my bug series will be on view at the C4 Gallery in the Canyon Country Community Center in Santa Clarita during May. The exhibition is a part of Celebrate - a monthly event series that celebrates cultures, customs, and culinary wonders from around the world.
Canyon Country Community Center:
18410 Sierra Highway, Santa Clarita, CA 91351
Monday – Friday 8:00 a.m. – 6:00 p.m.
Saturday 9:00 a.m. - 5:00 p.m.
◼︎
Desert Rock Garden

 
 


February 11th - March 13th, 2022
New Village Arts

 
I am honored to have my artwork exhibited throughout the run of the play "Desert Rock Garden" at the New Village Arts Theatre.

"D

esert Rock Garden" is a true event-based fictionalized story of a young orphan and a Japanese immigrant who forge a friendship in an internment camp during World War II. February 19th, 2022 marks the 80th Anniversary of Executive Order 9066, which resulted in the forced removal of 120,000 men, women, and children of Japanese ancestry to incarceration camps across America.
Feb 11 - Mar 13
New Village Arts Theatre:  2787 State Street, Carlsbad, CA 92008
*Masks are required for everyone. Photo IDs and COVID vaccination cards will be checked.
◼︎ 
Tape Art Mural Installation
 


October 26th - December 28th, 2021
Santa Clarita Town Center Art Space
A new tape art installation commissioned by the City of Santa Clarita, 
Tradition in Contemporary Art,
will be up until December 28th, at Town Center Art Space in the Westfield Valencia Town Center.
24201 Valencia Blvd., Santa Clarita, CA 91355
 (2F, opposite side of the mall from Macy's)
* Masks are required for all individuals while indoors.
An artist reception with a live music performance (koto and violin) by Cal Arts graduates Kozue Matsumoto and Kanoa Ichiyanagi on 
November 10.
◼︎ 
Tape Art Workshop
 September 18th, 2021
Japanese Friendship Garden San Diego
- No prerequisites are required. All levels are welcome!
- Short presentation and two pattern tape art craft.
The workshop will be held in JFG's Inamori Pavilion, or outside depending on California State health regulations at the time of the workshop.
◼︎ 
Solo Exhibition 2021
 April 30th - July 25th, 2021
Japanese Friendship Garden San Diego
The solo exhibition in the Exhibition Hall at Japanese Friendship Garden (JFG) located in San Diego's Balboa Park is open now!  
Balboa Park is a cultural oasis that includes 17 museums, gardens galore and the world-famous San Diego Zoo. 
JFG is a beautifu

l 12-acre Japanese garden ideal for serene walks and time spent enjoying features such as a running stream and koi pond, Zen rock garden, traditional Japanese sculpture, and Sakura trees. It could be a wonderful place to celebrate reopening and enjoying life together again!
Article and more info about this event: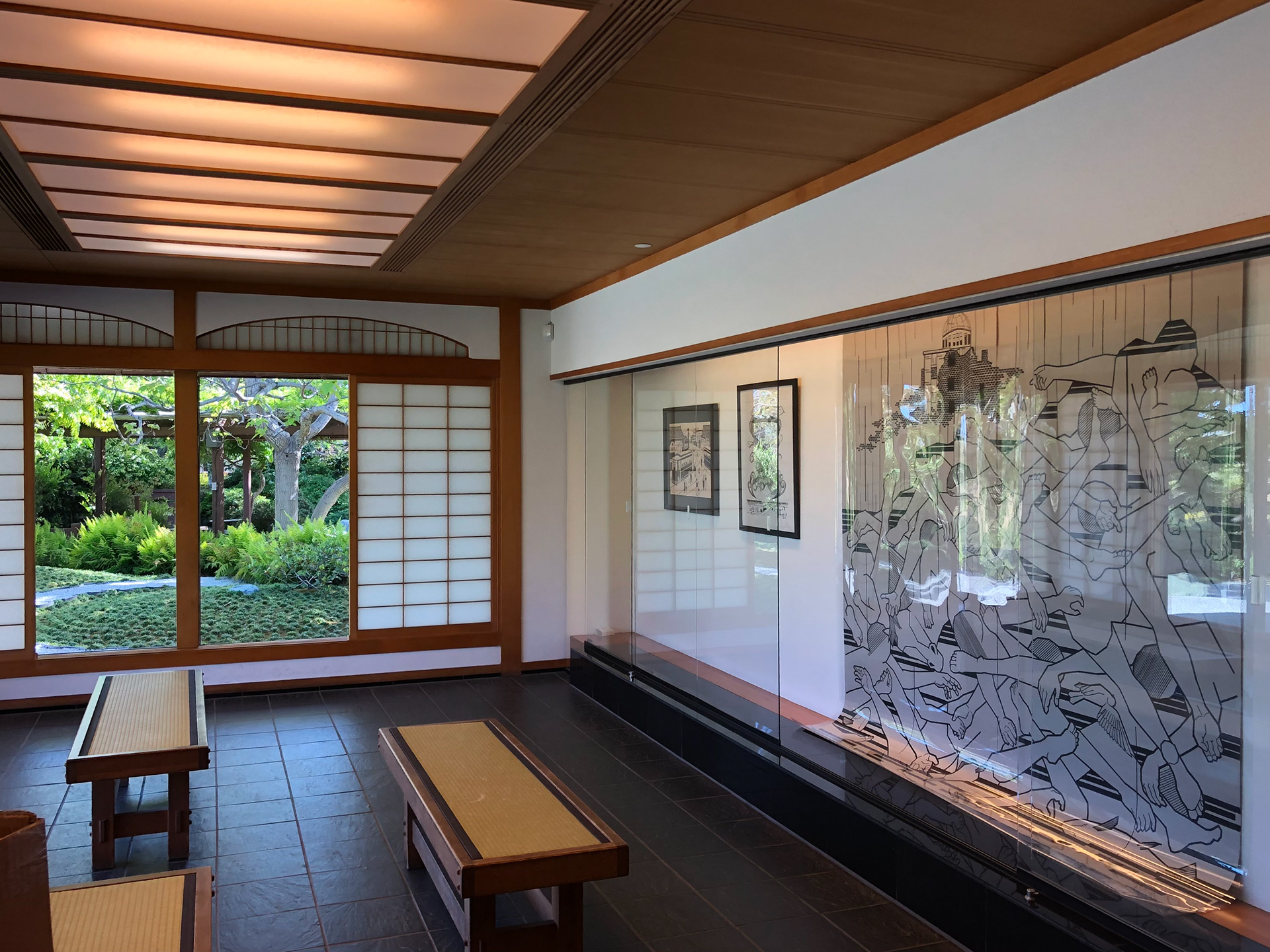 ◼︎
A High Beams #3, Laser Snake
April
 17, 2021
High Beams

is a series of one-night outdoor exhibitions that began in September 2020 on the rooftop of a parking garage in Los Angeles' Fashion District. The exhibitions function as socially distant drive-through events, coinciding with
Bendix Building
's first virtual Saturday programming of events, walk throughs, and artists talks. Guests can browse the directory to view what each physical space is doing, culminating their evening by "driving through" a curated collection of artist-run establishments from the Bendix Building and beyond. 
This program is presented by

Level Ground,

Museum Adjacent, Noysky Projects, Acceptable Risk LA, Durden and Ray, Last Ditch, O' Project Space, TSALA, 515
Article and more info about this event:
https://www.highbeams.art/high-beams-3
◼︎
A Celebration of Bronzeville's Finale

Club
Oct
ber 11, 2020
My artwork "Window of the Soul" will be part of this

program in which you will experience the rich artistic and musical history of Little Tokyo during the Bronzeville Era in a celebration of live music, Bronzeville scholars, photos, and videos. Performers and speakers will include the Ron Kobayashi band and historians Hillary Jenks and Kirk Silsbee, along with brief remarks by Miles Davis' son, Erin Davis.
This program is presented by the

Japanese American National Museum (JANM)

and

the Little Tokyo Historical Society (LTHS).
◼︎
Angel City Jazz Festival 2020
Oct
ber 3, 2020 -
It is honor to create this artwork for

the Angel City Jazz Festival 2020

! This LA's most adventurous jazz festival was conceived in 2008 as a vehicle to present the best contemporary West Coast jazz and beyond. For the 2020 edition, ACJF partnered with Overworld Studio to record the festival performances with ambisonic sound and 360 cameras to create a truly immersive experience for audience. 
◼︎ 
HOW TO SURVIVE A QUARANTINE:

Getting Un-Stuck When You're Stuck Inside
July
,

2020
One of my tape art pieces from Expression project is featured on the cover of

 "

HOW TO SURVIVE A

QUARANTINE: Getting Un-Stuck When You're Stuck Inside." 

This publication is made by

Liberated Arts Collective

to support The Youth Justice Coalition (YJC) that challenges race, gender, and class inequality throughout the juvenile and criminal injustice systems. 
◼︎ 

Solo Exhibition 2019 
 August 6th, 2019 (Exhibition continuing)

     Remembering Hiroshima and Nagasaki 
     at

Blue Whale

in Little Tokyo
Art and music event on August 6th, the anniversary of the 1945 atomic bombing of Hiroshima, Japan. Music performance by Motoko Honda,  Vinny Golia, Satnam Ramgotra, and

Matt Piper

. ​​​​​​​
◼︎ 

Solo Exhibition 2018  
August 17 - 19, 2018

     Tape Art Experience
      SOVO//Magazine Issue 2.5
The 3-day tape art interactive installation hosted by Sovo// Magazine as the second half-i

ssue

[ Issue 2.5 ] 
◼︎ Windows of Little Tokyo  
April 28, 2018 - 
Article and more info about this event:
SOVO// Magazine is an art, culture and lifestyle publication presented as a tangible piece of art. The launch of each issue is accompanied by an event, tailored to the theme of that issue. "Bookends" was included in the first SOVO//Magazine publication.